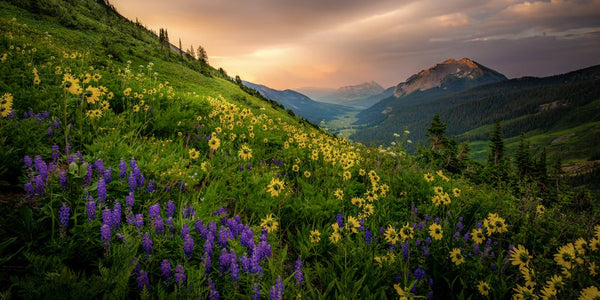 2023 Rocky Mountain Persian Rose Chulen
This unique offering brings together wonderful organic Persian roses from our garden, the magical high alpine wildflowers of our home state and a special preparation of Chulen ingredients from around the world to create a special energetic formula.
There are several kinds of Chulen used in Tibetan Buddhist practice. Extracts of minerals, subterranean earth, herbs and metals are all used to make these 'spiritual vitamins'. However, Metok, or Flower Essence Chulen are the most popular. Flower Chulen are made from fresh, high-altitude flowers collected when their yang qi is high and they are in full bloom, then carefully washed and dried in the shade. In the Himalayas, flowers used for this type of medicine are gathered in beautiful, sacred places, far from human habitation, and combined with herbs and holy relics to form a spiritual tonic renowned throughout the Himalayan world.
For this preparation we once again collected flowers from high alpine meadows, entirely at altitudes above 10000 feet, taking only a few from each area so as not to detract from the scenery for other hikers and climbers. Most of these flowers were collected from a hidden valley, or Beyul, which I discovered a few years ago.

We used the widest variety of non-toxic flowers we could find, and mantras and prayers were recited during all phases of collection and processing. In order to give this formula an especially personal touch, we added a large amount of organic Persian rose petals from our own garden, collected and dried this summer.
This flower base was combined with traditional Chulen herbal ingredients from Nepal and Tibet, including past batches of Chulen made by our teachers in Asia, along with sacred substances from great saints and accomplished masters of the past. This group of blessed materials is comprised of about 60 different items, including many types of ringsel, Terma articles, as well as special relics from past Buddhist masters. It is this enlightened essence which gives these Chulen a special potency.
In order to preserve the fragile essence of the flowers, which can be easily lost during intensive processing, we decided to encapsulate* these Chulen rather then make them into traditional pellets which must be chewed. It is our hope that this will allow the special radiance of the Colorado summer to shine through when you use the formula to enhance your energy and spiritual practice. Once completed, these capsules were consecrated using a Vajrayana Buddhist ritual to enrich and stabilize the formula with spiritual energy and mantra power.
Our aspiration is that this unique preparation may speed all those who encounter it on the path to insight and peace. For more information about Chulen in general, please see our other Chulen offerings.
Each bottle contains 60 capsules.
Directions: Take 1 or 2 capsules early in the morning with warm water. To refrain from eating for at least 30 minutes increases the efficacy of the formula. Meditation, Centering Prayer, yogic practices and breath work are encouraged. If you are using this formula as a support for fasting, it may be necessary to take more capsules later in the day, depending on your practice.
As with all types of herbal formula, if you have any health conditions please check with your doctor before using.
 * The capsules are 100% vegetarian.
---