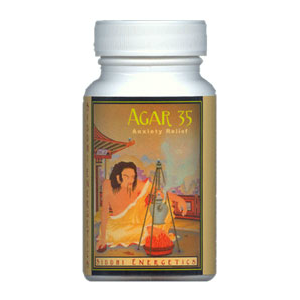 Agar-35
Note regarding international shipping: This product cannot be shipped to Brazil. 

In Tibet Agar 35 is the single most common and widely endorsed traditional compound for all types of anxiety and stress. Agar 35 is traditionally held to assist with the following*:
Traditional Uses*:
- Stress
- Mental Anxiety
- Tinnitus
- Nervousness
- Uneasiness
- Overactive Mental Activity
- Insomnia
- Night Waking
- Rushing thoughts, especially upon waking
About Agar 35
Agar 35 is made solely from natural ingredients of the Nepalese and Tibetan highlands. If you would like to find a way to gain calm while avoiding pharmaceutical drugs, Agar-35 may be of assistance. The Tibetan doctor who makes this formula describes his patients' experiences like this: "Many of my patients come to me with the symptoms of stress. Agar 35 often helps in just a few days. Many people (in the Tibetan world) use Agar 35 to manage stress on a daily basis and find that after a few months using it, their reactions to situations have greatly improved. My Western patients strongly benefit from Agar 35."*
Tibetan medicine and Ayurveda have long recognized that symptoms of stress appear as a result of many factors, found both inside and outside the body. Famous Tibetan physicians including Tenzin Choedrak and Dr Yeshe Donden, as well as their patients (most famously HH the Dalai Lama) rely on formulas such as Semde to help manage the internal aspect of these disorders. Agar 35 is the premier Tibetan rLung Formula. Agar 35 and Bimala can be used to treat similar conditions. People who tend to 'run hot' should use Agar 35, as it is slightly cooling.

Well known Chinese Medical doctor and acupuncturist Bob Flaws recommends Agar 35 for the following conditions:
"In terms of Chinese medical pattern discrimination, what we then have is a so-called heart-gallbladder qi timidity pattern complicated by heat and possible blood stasis. This is a not uncommonly seen pattern in clinical practice, and it is the main pattern in the contemporary Chinese medical literature associated with general anxiety disorder (GAD), obsessive-compulsive disorder (OCD), and post-traumatic stress disorder (PTSD). The treatment principles for this multi-element patterns are to course the liver and rectify the qi, fortify the spleen and supplement the qi, nourish the heart and quiet the spirit, transform phlegm, clear heat, and quicken the blood. Because it is common to see not only a liver-spleen disharmony but a liver-stomach disharmony as well, we can also add the treatment principles of downbearing counterflow and harmonizing the stomach."*
You can find the full article about Agar 35 here.
This formula is made of herbs which are conscientiously, sustainably hand-harvested and gathered by well-paid, well- treated workers. All the herbs which go in to making these complex formulas are organic and wild-crafted. They are made according to strict Buddhist principles and consecrated according to ancient, traditional methods.
What People Are Saying About Agar 35
"I was feeling nervous and ungrounded after an extra-stressful day, but only 15 minutes after taking the Agar 35 I felt my feet on the ground again and that possibilities had really opened up. It was so natural that it took me a few minutes to realize it was the Agar 35! I would recommend it to anyone." - R.A. Denver, Colorado

"I first used Agar 35 after I experienced anxiety and difficulty breathing during a month-long meditation retreat. While taking Agar 35 in the months of retreat that followed, I didn't experience similar trouble with breathing or anxiety. Terrific stuff!" -Darren F, Portland, Oregon

"After taking the Agar 35, I feel much more relaxed. For months before it arrived, I had trouble sleeping, especially during my frequent business trips. Now, after just a few days of taking Agar 35, I sleep wonderfully." -David K, College Station, Texas
"Thanks so much for offering this wonderful product (Agar 35). It has literally changed my life :)" - Angela, Troy, Ohio
*These statements have not been evaluated by the FDA. This product is not intended to diagnose, treat, cure, or prevent any disease.
Ingredients
Aquilaria agollocha, Terminalia chebula, Terminalia belerica, Emblica officinalis, Myristica fragrans, Bambusa textiles, Adhatoda vasica, Mesua ferrea, Saussurea lappa, Commiphora mukul, Picrorhiza kurroa, Punica granatum, Swertia chirata, Meconopsis horridula, Melia composite, Shorea robusta, Solms-Laubachia, Cinnamomum cecidodaphne, Carthamus tinctorius, Rubus idaeopsis, Tinospora cordifolia, Amomum subta, Amomum rotundus, Eugenia caryophylla, Santalum album, Inula racemosa, Hedychium spicatum, Chrysanthemum tatsienense, Pterocarpus santalinus, Pulicaria insignis, Outer bark of Aquilaria agollocha, Strychnos noxvomica, Aconitum spicatum.
Taking Agar 35
Agar 35 is a traditional Tibetan compound, widely prescribed for all types of stress related conditions.
Take two pellets or capsules at night with hot water. If taking pellets, crush them in the mouth before swallowing.
Suggested maximum amount is four pellets per day. Use with Siddhi Energetics' Semde for greater support.
Agar 35, like Bimala, is often taken with a small amount of aged wine, such as port. This combination helps to bring the Bimala deep into the body. The great modern Dzogchen master Namkhai Norbu Rinpoche often recommends that both Bimala and Agar 35 be taken in this way.
Serving: Two Pellets/Capsules at night before bed
Servings per container: 25
A recent testimonial:

"I'm so grateful that I was introduced to Siddhi Energetics by a friend. Over the past few years, I've worked with a number of their formulas, including Agar-35, Semde, and Chulen. If you're looking for greater peace of mind, true recovery from stress, or to restore your body's natural energy, I highly recommend any of these powerful Tibetan formulas. These are rare and precious herbs of unmatched quality that you simply cannot find elsewhere. I'm a customer for life." 
-MB
A review from one of our customers in Switzerland:
I have been a customer of Siddhi Energetics and Future Alchemy for several years and I am very grateful for their products, which support me in daily life and on my spiritual path. If you practice seriously, you will at times experience strong energies which are not always easy to integrate, and can lead to energetic blockages in the the heart region (what Tibetans call heart wind or nying lung) and to pain and mood swings. As those who have had to work in the modern world after a retreat know, it can be a real challenge. I found Bimala and Semde to be extremely helpful in restoring an emotional balance and as a support in my practice, in addition to the other products of yours I use.
I also gave the traditional duo of Semde and Agar 35 to friends and coworkers who struggle with nervousness, irritability and sleeplessness (very prevalent symptoms in Switzerland where I live) with excellent results. 
I can therefore highly recommend the products of these two sites and will remain a grateful customer in the future.
- M.W.
Another:
Dear Mr Wagner:
I must say that your products are extraordinary, they provide an excellent support for issues like stress, anxiety, fatigue etc.
All the best.

Affectionately 
-J.A.