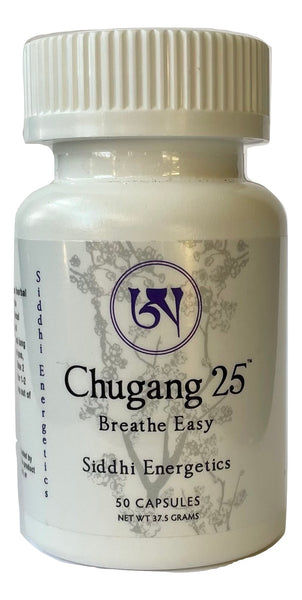 Chugang 25 - Breathe Easy
Breathe Easy With Chugang 25

Chugang 25 is a traditional Tibetan herbal compound used in the Himalayas to support healthy breathing. It is often suggested when normal lung function has been impaired due to illness, pollution or other factors. Our modern world has been increasingly polluted due to both man made factors such as industry, coal-burning power plants and automobiles as well as natural causes like forest fires. It was the terrible fires of the summer of 2020 which inspired us to carry Chugang 25. Chugang 25 is a good choice for those whose environment isn't as pure as they would like it to be.

In Tibet Chugang 25 is widely prescribed for many types of breathing-related issues. This formula is traditionally held to assist with the following symptoms*:
Traditional Uses*:
- Opening and clearing the lungs

- Restoring normal lung function

- Eliminating coughing and pus
- Reducing lung inflammation
- Removing pollutants from the lungs
About Chugang 25

Chugang 25 is a traditional Tibetan herbal formula made entirely from natural ingredients from the Nepalese and Tibetan highlands which are gathered by local people paid a fair wage. A one-month course of Chugang 25 is said to open and clear the lungs, expelling the contaminants and embedded particulate matter which accumulate through breathing the polluted air of today's world.

This formula is made of herbs which are conscientiously, sustainably hand-harvested and gathered by well-paid, well- treated workers. All the herbs which go in to making these complex formulas are organic and wild-crafted. They are made according to strict Buddhist principles and consecrated according to ancient, traditional methods.
*These statements have not been evaluated by the FDA. This product is not intended to diagnose, treat, cure, or prevent any disease.
Ingredients
Bambusa textilis, Carthamus tinctorius, Eugenia caryophyllata, Amomum sublatum, Aristolochia moupinensis, Terminalia chebula, Foeniculum vulgare, Geranium sp., Lancea tibetica, Myristica fragrans, Glycyrrhiza glabra, Pterocarpus santalinus, Terminalia belerica, Saussurea lappa, Picrorhiza kurroa, Hippophae rhamnoides, Elettaria cardamomum, Vitis vinifera, Santalum album, Emblica officinalis, Rhodiola saera, Arenaria granduligera, Incarvillea younghusbandii, Tsar-bong
Taking Chugang 25

Chugang 25 is a traditional Tibetan compound, widely prescribed for lung and breathing-related issues. Take two capsules at night or in the morning with hot water.

Suggested maximum amount is four capsules per day.

Serving: Two capsules once or twice each day.

Servings per container: 25