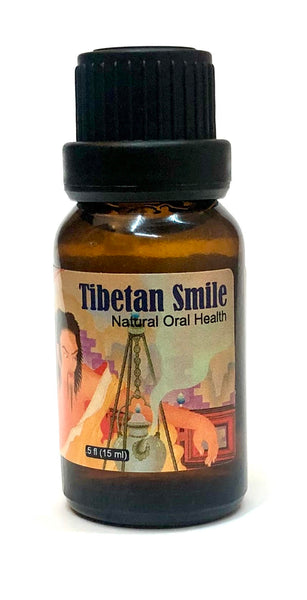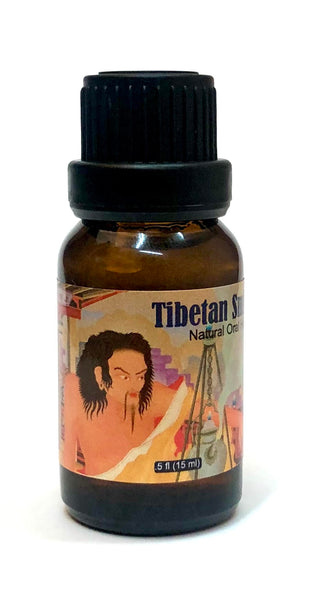 Tibetan Smile - Natural Oral Health
Tibetan Smile is a safe, organic tooth care product which can be used daily to help keep your mouth fresh and healthy. Combining completely natural, organic essential oils in a special formula, Tibetan Smile can be used on its own or in concert with ordinary toothpaste to provide another layer of healthy mouth care. 
In addition to keeping your mouth fresh and clean, this formula can be used to support standard treatments for toothache, abscesses and bad breath, and promotes strong, healthy oral hygiene. Some have reported that it has a particularly beneficial effect on sensitive, bleeding gums, and we have a few anecdotal reports of receding gums healing and appearing to regrow.*
One special feature of this formula is that it combines well-known organic essential oils with a unique extract of the famous 'tooth stick' used for over 1000 years in India, Central Asia, the Middle East and parts of China. Sticks cut from this wonderful plant are chewed to retard tooth decay and keep a balanced oral environment. To our knowledge, no one has ever extracted the active ingredients of this plant and used them to formulate a more effective tooth care product. 
100% organic and safe for daily use by the whole family, Tibetan Smile is Fluroide-free, SLS free, Vegan and made from renewable ingredients. 
Ingredients: 
Organic Sweet Almond Oil, Organic Salvadora Persica Oil, Organic Cinnamon Leaf Oil, Organic Peppermint Leaf Oil, Organic Spearmint Leaf Oil, Organic Clove Bud Oil, Organic Myrrh Oil, Organic Manuka Oil.
Each bottle contains 15mL (approximately 300 drops).
*These statements have not been evaluated by the FDA. This product is not intended to diagnose, treat, cure, or prevent any disease.
Directions:
The formula can be used in a number of ways:
- BRUSH teeth using a few drops on your toothbrush, with or without ordinary toothpaste.
- FLOSS with a drop of Tibetan Smile to clean and refresh in between teeth and in deep gum pockets.  
- SWISH with a few drops in water as an herbal mouthwash solution (this is a version of oil pulling, itself an effective means of mouth care).
- MASSAGE directly onto sensitive areas of gums and mouth.
What people are saying:
Just wanted to tell you about Tibetan Smile. Some months ago I decided to use the product daily instead of whenever I felt like using it. When I first began using it a few years ago it completely stopped my occasional bleeding gums after brushing. A few days ago I had my 6 month teeth cleaning session and the dentist told me this is the healthiest my gums have ever looked. So I reached in my pocket and showed him the bottle of Tibetan Smile. He read the ingredients and said the oils that he recognized most likely would kill bacteria. Considering the improvement in my gums, I would have thought he would have asked where he could obtain the product so he could tell his patients. But he did not do so. But it was great to hear his feedback about an obviously great product.
- SM